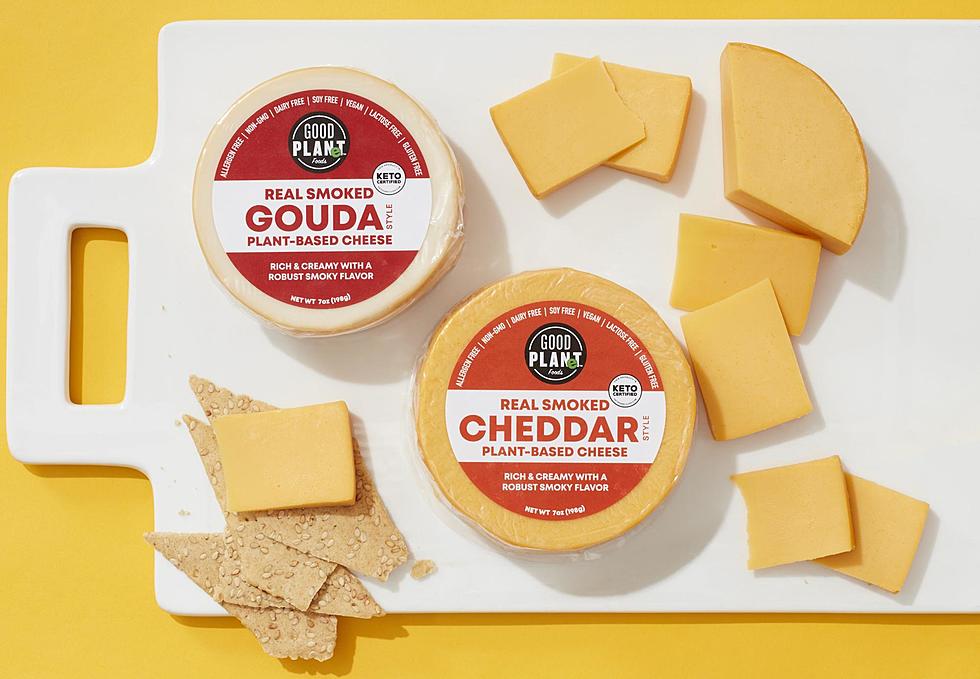 GOOD PLANeT Foods is tackling vegan cheese from a new angle, adapting traditional dairy cheese favorites into plant-based products. The eco-friendly vegan brand just debuted two new vegan cheese wheels: Real Smoked Cheddar and a Real Smoked Gouda flavor, aiming to cater to a broad customer base by introducing a smoked gouda, a flavor rarely seen among rival vegan cheese companies.
Following the initial launch of its cheese wheels, the Washington-based company announced that its Smoked Cheddar and Gouda products will be available at 500 additional stores across the United States. GOOD PLANeT revealed that a significant amount of the expansion is due to the company's new relationship with grocery chain Giant.
After this expansion, the vegan cheese wheels can now be found at 1,200 stores nationwide. Customers will be able to purchase these innovative dairy-free products at Sprouts, Wegmans, Albertsons, Safewats, Jewel-Oscos, and other retailers across the entire United States. Both cheese wheels will be available at a suggested retail price of $5.99 per 7-ounce wheel.
The coconut oil-based cheeses join a growing selection of exciting vegan dairy products that include shreds, slices, and wedges. GOOD PLANeT notes that the vegan wheels are naturally smoked with real applewood chips.
"We are committed to growing the plant-based cheese segment in 2022, and part of doing this is to continue to raise the bar for what consumers can expect from plant-based shreds and slices," GOOD PLANeT co-CEO Bart Adlam said.  "We are bringing this to market just after getting a fantastic response to the recent launch of our Plant-Based Snackable Wedges and just before we launch even more innovation, so we're excited to take our brand and segment to the next level this year."
GOOD PLANeT Foods Expects Big Growth
GOOD PLANeT celebrated the new year with a companywide rebranding campaign that redesigned its packaging to catch the eye of consumers. Alongside its retail expansion, the company decided to feature images of its cheese alternatives melting on the front page with the aim of enticing non-vegan and vegans to try this new plant-based cheese. GOOD PLANeT boasts that its new plant-based cheese recipe best replicates the melting ability of traditional cheese products while also mirroring a smooth, cheesy flavor.
The company will also market with the environment in mind. Experts say that the plant-based trend is capturing those with sustainability in mind, claiming that more consumers in 2022 will purchase items with eco-friendly promises. The company expects to see rapid growth as it expands its distribution and prioritizes environmental marketing.
"We can all contribute to a better environment and climate in the future by eating more plant-based foods like GOOD PLANeT. Production of our cheeses requires a fraction of the land and water and produces a fraction of methane compared to that of dairy cheeses," Founder and CEO of GOOD PLANeT David Israel said. "All our products have sustainability in mind, and we are pushing to do more towards this goal."
"For example, our cardboard carton for our new Snackable Cheese Wedges uses 90 percent post-consumer material and is recyclable, making it a good choice for the environment in various aspects. We are continuing to adapt our products to make them the most PLANeT-Friendly they can be, and this will always be a priority."
Beyond the retail space, GOOD PLANeT is doing everything to bring its vegan cheese to customers all over the country. The company just announced a partnership with burger chain Fuddruckers. With nearly 100 locations across 25 states, Fuddruckers will be serving vegan cheese on its menus for the first time. The two companies will begin testing the dairy-free burger topping at locations in Arizona, Kansas, Missouri, Virginia, and Texas before expanding nationally.
https://thebeet.com/vegan-smoked-gouda-wheels-are-coming-to-a-store-near-you/