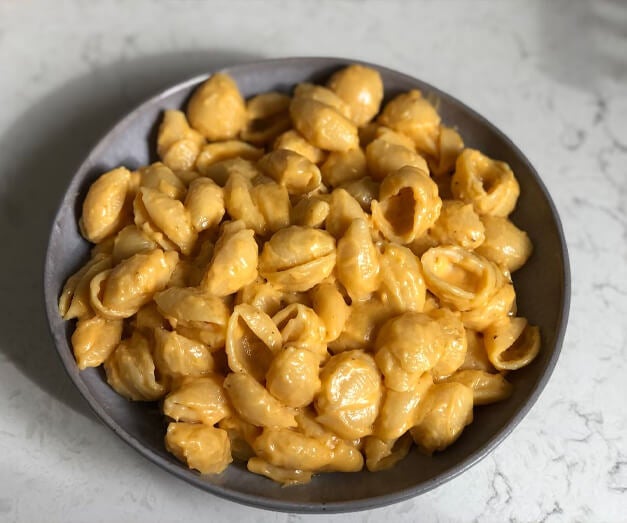 If you're a huge foodie like me and just want a salty fix of homemade mac n cheese every now and then, you've searched and tested about a million plant-based mac n cheese recipes that all claim to be the "best"… but STILL somehow haven't found that one recipe that makes your mouth water just thinking about it.
Whether it's from not enough flavor or the texture is weird, something is usually off, right?
Well stop right here because you have FINALLY found the. Best. One.
What I Used: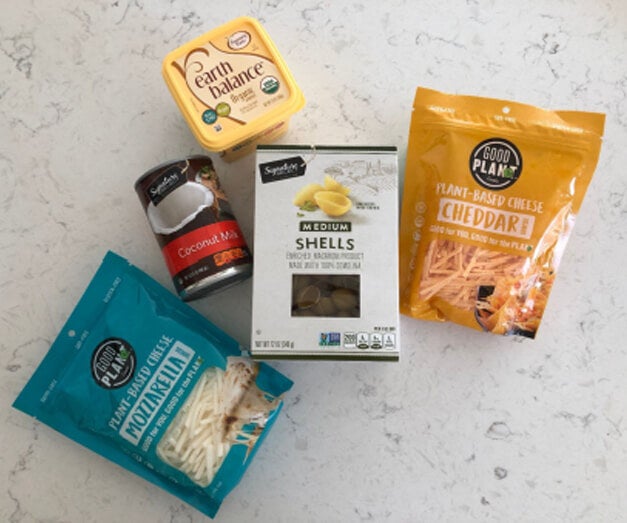 The staples that make this recipe are the coconut milk and GOOD PLANeT Foods cheese. As you'll see in the instructions below, the coconut milk is boiled in with the water. I do this in order for the pasta to soak up the coconut milk which gives it a thick, creamier bite as a result.
As far as the cheese goes, this is hands down the best plant-based cheese you could use for this recipe. I've mentioned GOOD PLANeT Foods cheese in other recipes on my blog; of all the dairy-free cheddars I've tried, this one has the richest and best flavor. It's completely allergen free (no soy, gluten, nuts, dairy or GMOs) and obviously cruelty-free!! And the best part…it actually MELTS.
For the stove-top recipe shown in the first picture, you will only need the cheddar shreds. If you would like to try the baked option, I recommend using the mozzarella shreds in addition to the cheddar (as you'll read in the instructions for baking below).
Baked Option: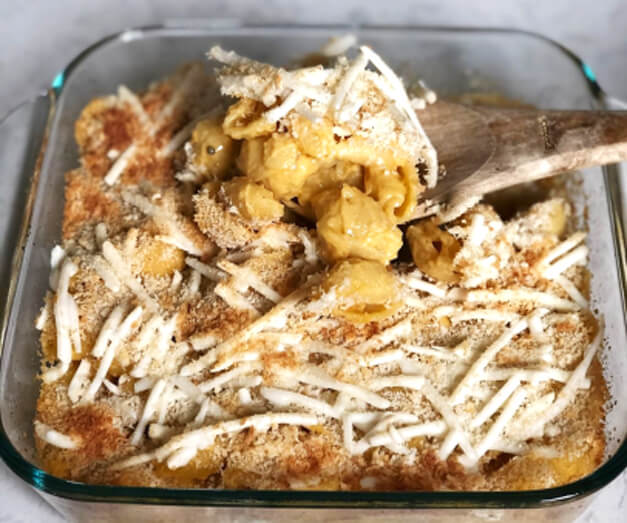 For this version (a personal favorite of mine), you will only need 2 additional ingredients: Mozzarella flavored plant-based cheese shreds and dried bread crumbs. You can absolutely use cheddar cheese for both the stove-top mixture and the baked topping, but I used the Mozzarella shreds from GOOD PLANeT to incorporate more flavor. On top of the cheese you'll sprinkle the breadcrumbs to complete the dish with the perfect crunch.
Let's get into it!
---
The Recipe:
Prep Time: 5 minutes
Cook Time: 30 minutes (40 minutes with baked option)
Total: 35 minutes (45 with baked option)
Ingredients:
1 box of medium-sized shell pasta
1 can condensed coconut milk
3 cups water
½ tsp Garlic powder
Onion powder
Nutritional yeast
Salt and pepper
1 tablespoon of vegan butter
Instructions:
1. Add 3 cups of water and 1 can of coconut milk to the pot. Stir in coconut milk and bring to a high heat. Cover and let sit for about 5 minutes or until the water is boiling.
2. Once the water is boiling reduce to a low heat, pour in pasta, keep covered and let sit for about 20-25 minutes, stirring occasionally.
3. Drain any excess coconut milk and keep pasta in the pot. Add 1 full bag of GOOD PLANeT Foods cheddar cheese shreds, all of the dry ingredients and one tablespoon of butter. Stir for about 2-3 minutes, or until cheese is melted.
4. ENJOY!! You can eat this cheesy goodness as is at this point, or follow directions below to continue for a crispy baked mac n cheese…
Baked Option:
1. Preheat the oven to 425 degrees Fahrenheit. Prepare a baking dish by greasing the inside with olive oil to avoid any pasta sticking to the dish.
2. Pour all of the mac n cheese (completed in previous steps) into the baking dish. Sprinkle a handful of plant-based mozzarella cheese shreds on top (You can use the same kind of cheese from earlier steps; I used Mozzarella shreds from GOOD PLANeT to incorporate more flavor). Then, add an even layer of dried bread crumbs on top.
3. Put this dish in the pre-heated oven and let it cook for about 5-10 minutes (depending on how crispy you like the breadcrumbs). Once the dish has reached your desired crispiness, remove from the oven and let cool for about 5 minutes, then dish up and enjoy the crunchy, cheesy layers of goodness!
I hope you enjoyed this recipe as much as I did! Let me know if you try it out and what you think in the comments on my blog.
Siena Ulrich
Blog: https://www.avo-raw.com/
Instagram: https://www.instagram.com/avo.rawnutrition/