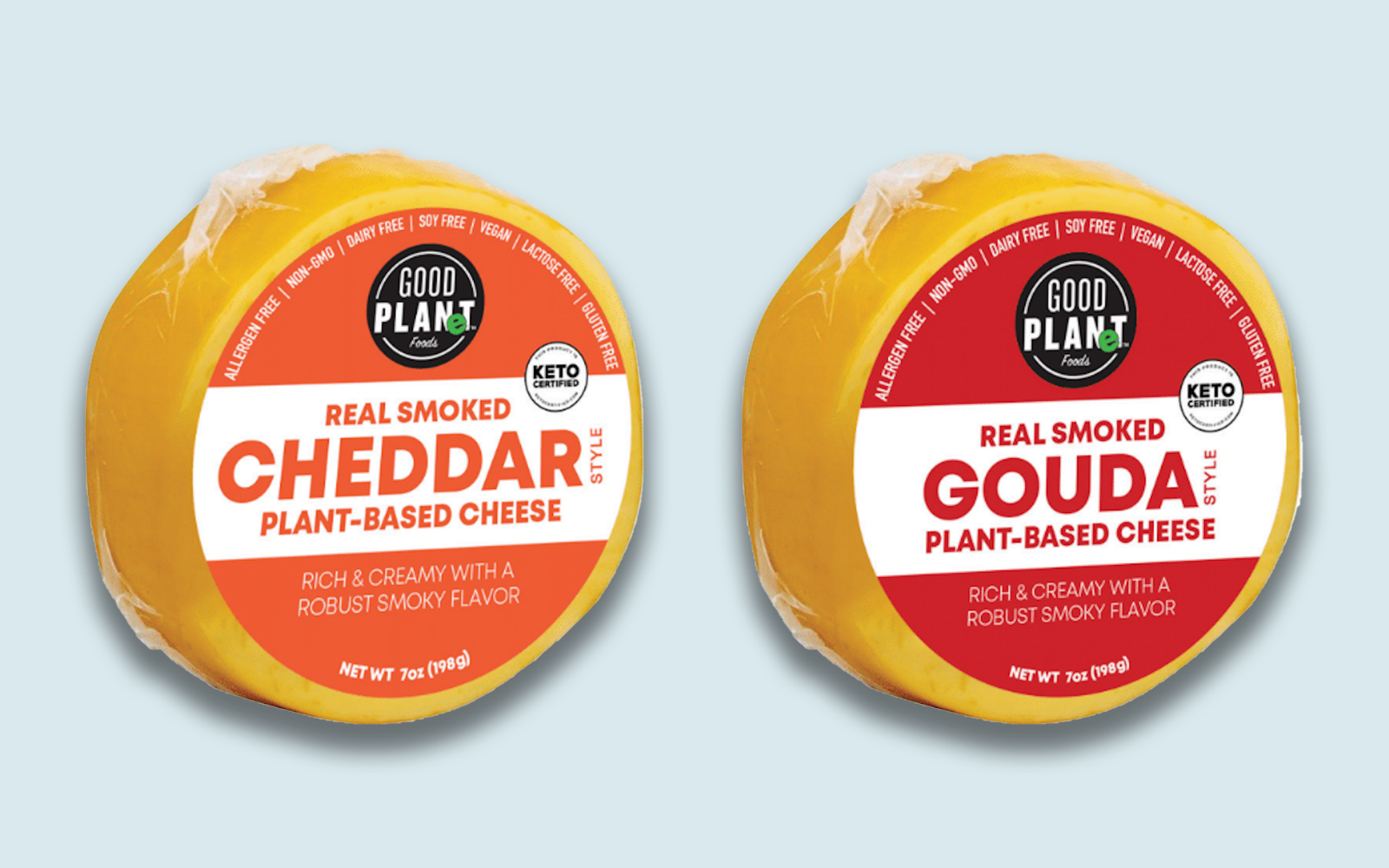 New dairy-free cheese wheels by GOOD PLANeT foods are coming to 500 stores before rolling out to retailers nationwide. 
New dairy-free cheese wheels are now rolling out to 500 stores, including grocery chain Giant, before expanding to additional retailers. The new cheeses are made by GOOD PLANeT Foods, a Washington-based vegan cheese company that strives to make products that are both good for people and the planet. The coconut oil-based cheese wheels will be available in Real Smoked Cheddar and Real Smoked Gouda flavors at a suggested retail price of $5.99 per 7-ounce wheel. 
GOOD PLANeT created these vegan cheese wheels as allergen-friendly alternatives for use on charcuterie boards or for general snacking purposes. GOOD PLANeT Co-CEO Bart Adlam tells VegNews that these vegan cheese wheels are unique to the market as they are smoked over applewood chips for a deep, smoky flavor.
"At GOOD PLANeT, we are committed to bringing innovative new offerings to dairy-free cheese," Adlam told VegNews. "We want to offer consumers new ways to experience the joy of cheese in plant-based offerings, whether they are trying to have a better diet, or want to make a small move towards a better planet."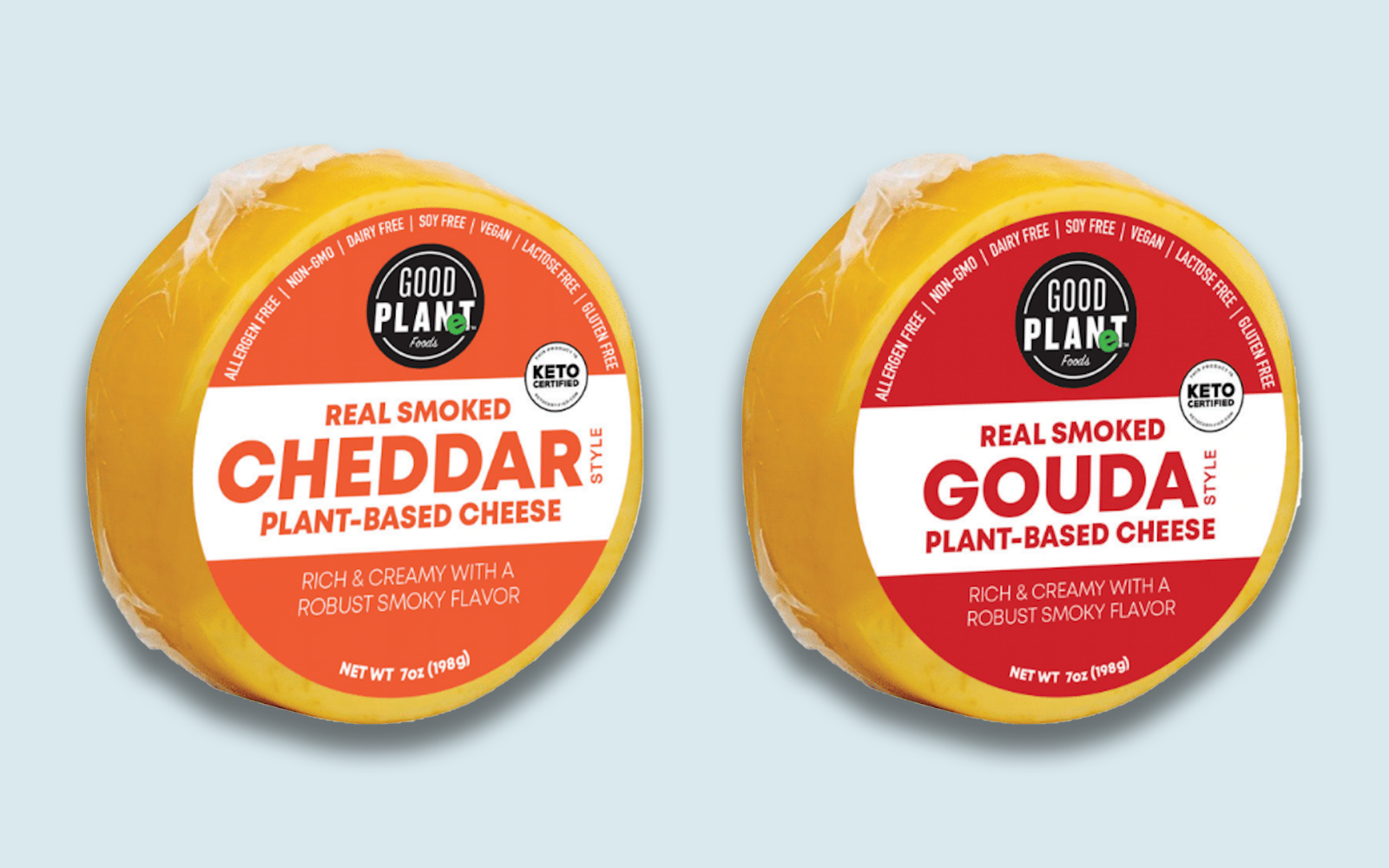 Dairy-free cheese innovation
GOOD PLANeT's new smoked vegan cheese wheels are not the only innovative product in the company's portfolio. Last year, GOOD PLANeT released vegan cheese wedges that resemble those made by iconic brand Laughing Cow. These single-serve cheeses—available in Original, Pepper Jack, and Smoked Gouda flavors—were the first vegan cheeses to come in this format.
With this release, GOOD PLANeT also beat Laughing Cow parent company Bel Brands to the punch as the French cheese company is currently working to create vegan versions of its iconic cheeses, with its own dairy-free Laughing Cow wedges slated for release in 2023.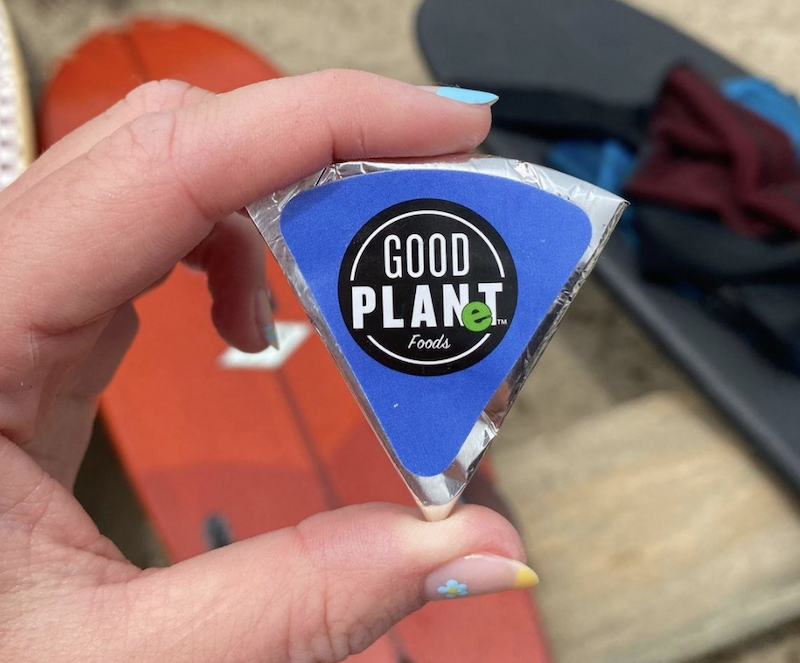 In addition to its wheels and wedges, GOOD PLANeT also produces vegan cheese slices and shreds in flavors such as cheddar, mozzarella, and American. The brand's products are currently distributed at more than 1,200 retail locations nationwide. 
GOOD PLANeT gets into fast-food chains
On the foodservice side, GOOD PLANeT also helps fast-food chains diversify their options. Fast-food chain White Castle was one of the first to offer a plant-based burger option when it added Impossible Sliders to its menu at 385 locations nationwide. While the patty of the slider is a plant-based Impossible Burger, it comes topped with dairy-based cheddar cheese. In 2020, White Castle launched a test of GOOD PLANeT's vegan cheddar cheese at select locations in New York and New Jersey.
Most recently, GOOD PLANeT partnered with Fuddruckers, the first Black-owned burger franchise in America. Fuddruckers now offers GOOD PLANeT's vegan cheese in American, Smoked Provolone, and Pepper Jack flavors which can be added to burgers, sandwiches, and salads. Alongside the new vegan cheese options, Fuddruckers is also exploring items from vegan brand Beyond Meat (burgers, sausages, and chicken tenders); plant-based chicken cutlets by United Kingdom-import Meatless Farm; and vegan bacon by California brand Hooray Foods.