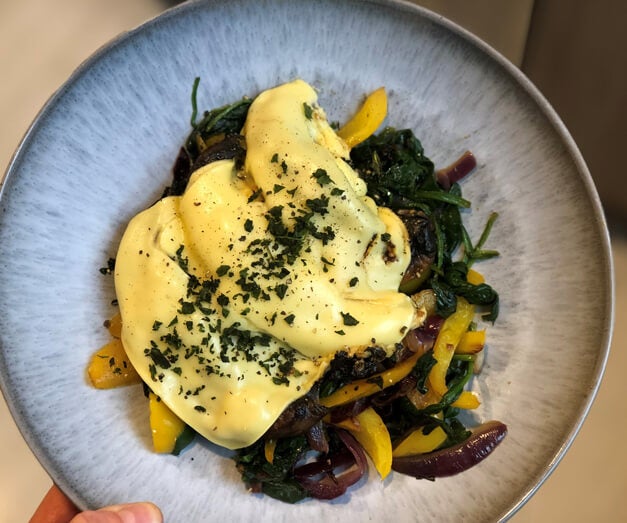 Gluten-free, dairy-free, meat-free, soy-free, nut-free, cruelty free… you get the point. It's completely allergen free, it's 100% plant-based and it's BOMB.
This twist on the classic Philly Cheesesteak recipe is hands-down my new favorite go-to. It's the perfect savory, cheesy dish to make for dinner. The recipe below serves 1 person, but you can easily double or triple the recipe to make a feast for the whole family!
All you need is 20 minutes, a non-stick pan and stove, mushrooms, peppers and some plant-based cheese. I used what I had in my fridge, but you can add any other vegetables you prefer! I definitely recommend that you use mushrooms and bell peppers as the base, for that classic Philly Cheesesteak taste.
Let's get into the recipe!
Prep Time: 5 minutes
Cook Time: 20 minutes
Total Time: 25 minutes
Ingredients:
1 portobello mushroom
1 bell pepper (yellow or green)
½ red onion
3 cups spinach
1 tablespoon olive oil
3 slices plant-based white cheese (I used GOOD PLANeT Foods smoked provolone slices)
1 tablespoon minced garlic
1 tablespoon chopped (or dried) basil
2 teaspoons salt
2 teaspoons pepper
Recipe:
1. Cut the bell pepper, onion and mushroom into long, thin slices (the mushroom slices can be a bit thicker; I sliced it into 3 sections for this recipe). Set mushroom slices aside. Add ½ tablespoon of olive oil to a medium sized non-stick pan and bring to a medium-high heat on the stove.
2. Add bell pepper and onion slices to the heated pan. Let cook for about 5-7 minutes, or until the onions are translucent and the bell peppers are cooked to a softer texture.
3. Add 3 cups of spinach to the pan. Cover and stir occasionally, until the spinach leaves are cooked. This will take about 1-2 minutes.
4. Remove sautéed veggies from the pan and set aside in a bowl. Keep the pan heated on the stove.
5. pour another ½ teaspoon of olive oil into the pan and add mushroom slices. Sprinkle 1 teaspoon of both salt and pepper, ½ tablespoon of garlic and ½ tablespoon of basil on top of the mushroom slices. Cover and let sit for about 5 minutes.
6. Flip mushroom slices over and add the same portions of salt, pepper, garlic and basil to this side. Cover and let sit for 2 minutes.
7. Add 3 slices of plant-based white cheese onto the mushroom slices, cover and let sit for another 5 minutes.
8. Remove from heat, scoop cheesy mushrooms onto the bowl of sautéed veggies, and enjoy. Sprinkle on some more chopped basil for garnish if you desire!
Notes:
You can use whatever cheese you prefer in this recipe, but I HIGHLY recommend Smoked Provolone plant-based, allergen-free cheese by GOOD PLANeT Foods. This is my favorite vegan cheese because it melts better than any other brand I've tried (and trust me, I've tried a lot), it tastes amazing AND its free from soy, gluten and nuts (and obviously dairy)! Basically, anyone can eat this cheese, no matter what kind of diet they follow. Plus, the flavor is perfect for this recipe.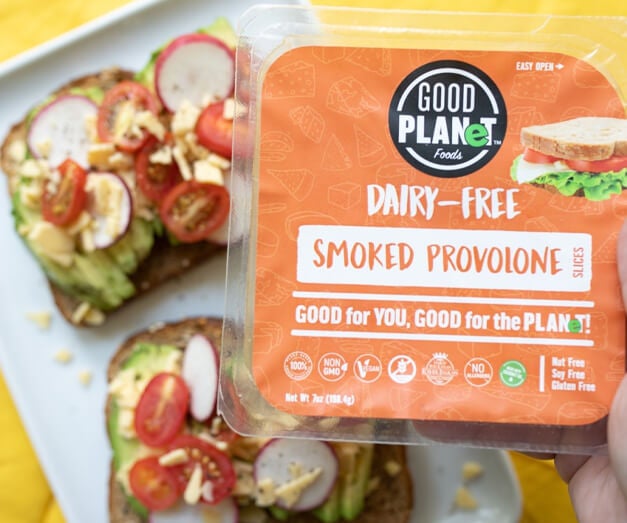 I hope you enjoyed this recipe! Let me know if you try it out and what you think in the comments on my blog. Thanks for tuning in!
Siena Ulrich
Blog: https://www.avo-raw.com/
Instagram: https://www.instagram.com/avo.rawnutrition/